Zishan group: epidemic is order, prevention and control is responsibility
2020-02-09
In the severe struggle to prevent and control the new coronavirus infection pneumonia, the cadres and staff of Zishan
Group actively responded to the anti epidemic work deployment of high-tech zone and yancuo town with a high sense of
political responsibility and mission, comprehensively implemented the joint prevention and control measures, and contri-
buted their own strength to win the epidemic war.
On January 24, the president of the group, flood river, held a conference call to discuss and deploy the prevention and control
work with the senior management of the group. On January 25, the group issued the proposal on the prevention and control of
new coronavirus to all subsidiaries and factories (departments). On January 26, the group organized all subsidiaries and plant (De-
partment) managers to hold on-site meetings, set up a prevention and control leading group with the president of the group, flo-
od river, as the group leader, and senior managers of the group as the group members, launched the emergency prevention and
control plan for new coronavirus epidemic situation of Zishan group, scientifically studied and judged the situation of epidemic
events, responded to emergencies in a timely manner, and comprehensively led, organized and coordinated all subsidiaries . joint
prevention and control of the plant (Department).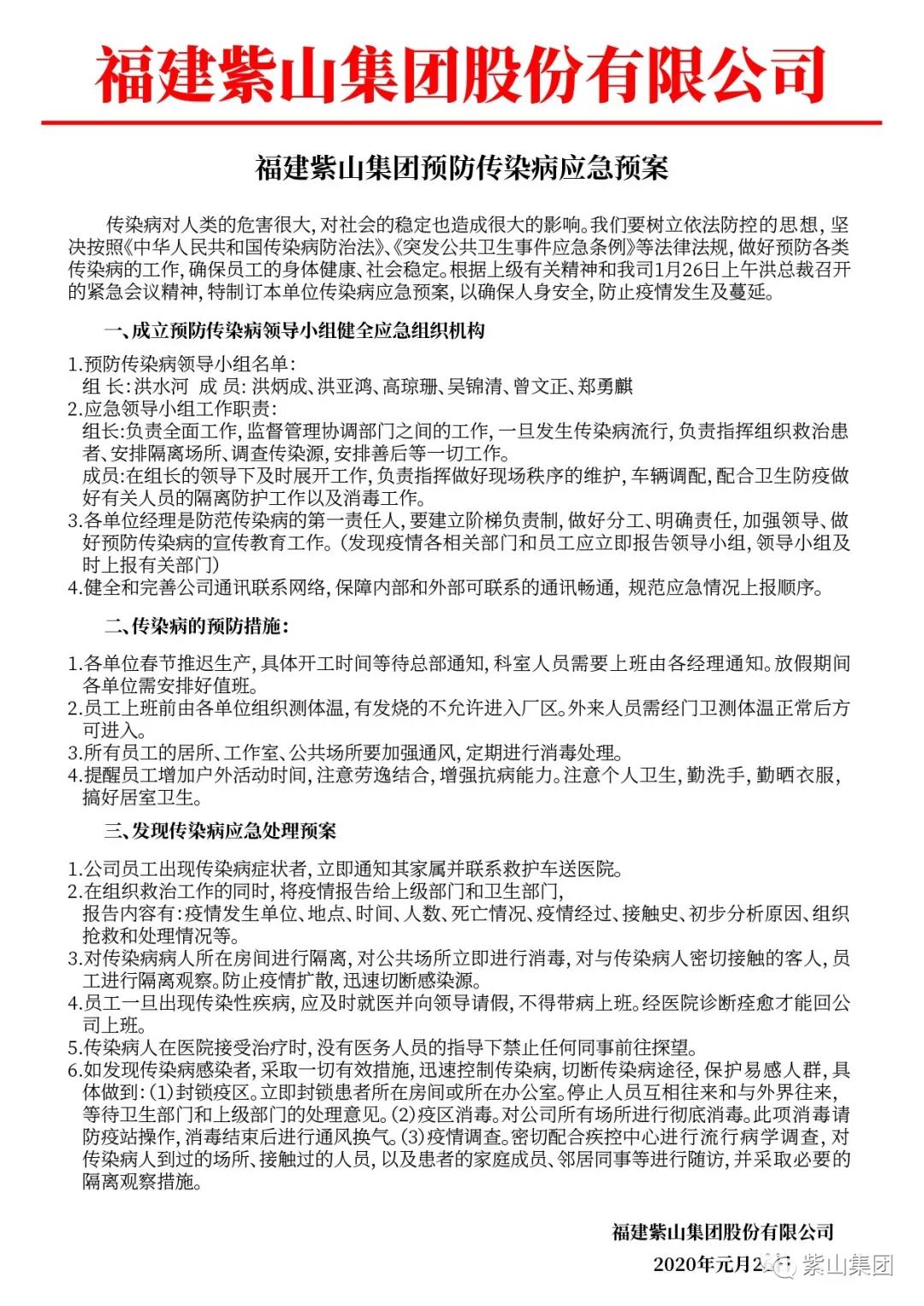 1、Fast action, close prevention and control, good "propagandist"
The group company actively publicized the knowledge of scientific epidemic prevention through wechat group, display screen,
poster post, bulletin board, etc., guided all employees to deal with the epidemic in a scientific and orderly manner, not believing in
rumors, not spreading rumors, and timely stopped and corrected the unclear and untrue statements, so as to make scientific epid-
emic prevention deeply rooted in the people's hearts and lay a good foundation for winning the new type of epidemic prevention
war.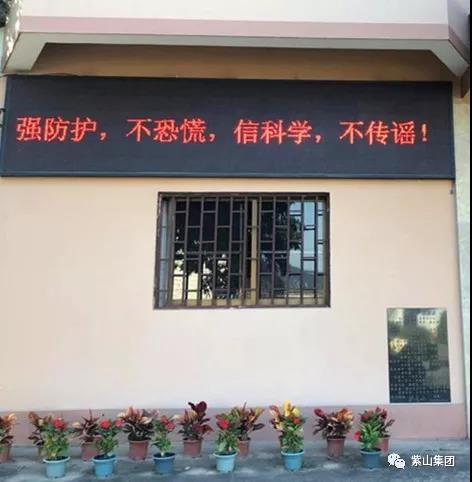 2、Strictly observe the checkpoints, scientific prevention and control, and be a good "fighter"
In January 27th, the purchasing department of the group procured the necessary materials for prevention and control (mask,
infrared thermometer, disinfectant, protective clothing, sprayer, alcohol spray bottle, etc.) in a timely manner, and then applied u-
niformly to all departments. Personnel prevention and control. The employees must wear masks, and the gate post shall carry out
health investigation, temperature measurement and information registration for the employees one by one, and disinfect their co-
ats, hands and vehicles. Place disinfection. The cleaner shall disinfect the production area, staff dormitory, canteen and surroundi-
ng environment before and after work. Daily report system. Each subsidiary and plant (Department) shall designate a special pers-
on to monitor the temperature of the employees in the company and record it in the registration form to conduct real-time trou-
bleshooting.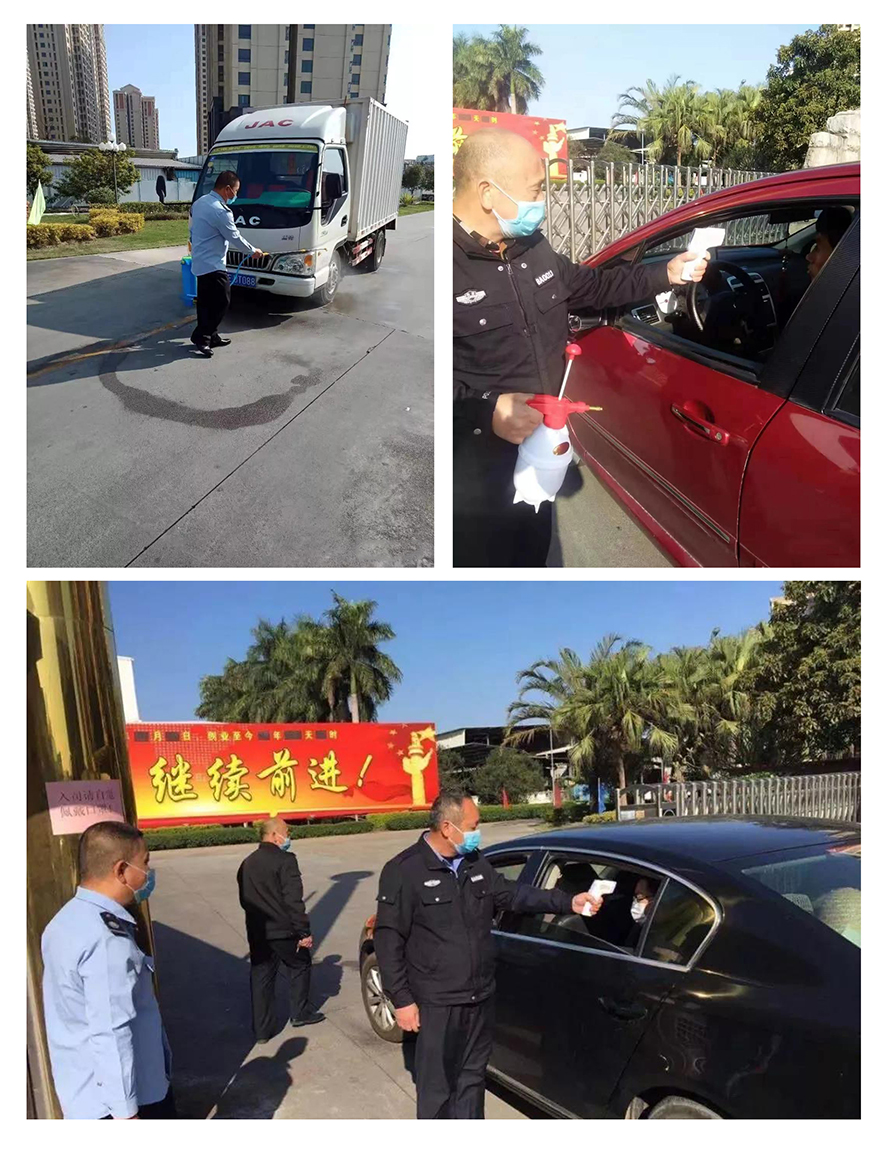 All the people of Zishan are united, go all out and deal with it actively!
We will continue to strive for the final victory of this epidemic prevention and control campaign.